At O'Daniel Chrysler Dodge Jeep RAM we believe you will notice a difference. Professional sales, service and technicians who care about you and your car. We understand you have a choice in car dealers and we want to be on the top of the list. We strive to have the best service and deals in town. We are family owned and operated in Fort Wayne for over 30 years and put our reputation on the line with every customer that comes thru the door. Call us at (888) 830-7123 if you'd like to speak with our knowledgeable staff!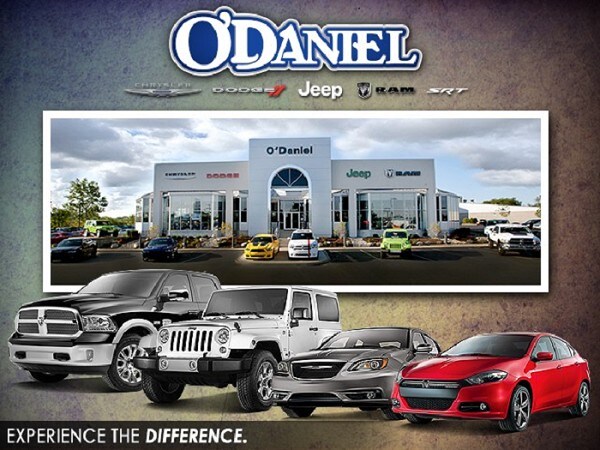 "AN 

EXTRAORDINARY

 DEALERSHIP EXPERIENCE"
O'Daniel provides an extraordinary automotive experience in Indiana through the efforts of honest, helpful, and dedicated professionals. We hold ourselves accountable to the highest values to earn customers for life.
If there's one thing we want everyone to know it's that at
O'Daniel Motor Sales
we are here to make you happy. That's what we want from the time you walk into our showroom looking for the
new
or
used Dodge, Chrysler, RAM and Jeep
vehicle of your dreams to the day you want to trade it in.
In addition to our lineup of high-quality vehicles that offers many choices for drivers with different wants and needs, there's also our car service and repair center. We train and retrain to help ensure the vehicle you buy or lease from us continues to satisfy you for hundreds-of-thousands of miles to come. What's more, we use certified Dodge, Chrysler, RAM and Jeep parts that are also available to the DIY-types out there. This way, you know you're vehicle is being treated right, from start to finish.
Speaking of being treated well? O'Daniel Motor Sales takes one stressful part of the car buying experience and turns it in to a BIG positive. That's thanks to our team of Dodge, Chrysler, RAM and Jeep lease and loan specialists. Here to make sure all of your finance needs are met, they work hard crunching the numbers and ultimately provide an all-around pleasurable experience - some even go so far as to call it unmatched.
Of course, the best way to learn more about our commitment to you here at O'Daniel Motor Sales is to talk with us. Call, send us a note online, or stop in to our showroom during regular business hours. We're located at 5611 Illinois Rd Fort Wayne, Indiana and would love to answer any questions you might have.



History of O'Daniel Auto Group
O'Daniel Oldsmobile was formed in July, 1979 when we purchased the assets of Johnstone Oldsmobile. Our previous Automobile experience was in Evansville, Indiana at a family owned Oldsmobile/Nissan dealership for more than 20 years. In December, 1981 we acquired the Amc/Jeep/Renault franchises and added them to our expanding business. The move to our current facilities on Illinois Road was accomplished in March, 1987. In April, 1990 we purchased the Porsche/Audi/Mazda franchises from Langeland Imports and built a separate showroom that was completed in December, 1990. In November of 1997, the Company completed the purchase of Shaver Ford-Mitsubishi and added yet another Dealership to the O'Daniel family of Dealerships. On May 1, 1998, O'Daniel expanded again with the purchase of the Chrysler/Plymouth franchises from Poinsatte Motors, Inc. These franchises were moved into the main facility with Jeep/Eagle and Oldsmobile was relocated to its own dedicated facilities at 5321 Illinois Road. In May of 1999, O'Daniel became the exclusive Oldsmobile Dealer as a result of the buyout of Collins Oldsmobile. In December of 1999, the property formerly occupied by Bostwick Pontiac was purchased for the new home of O'Daniel Oldsmobile. General Motors did a complete redesign of interior and exterior spaces and construction was started in February of 2000. The move was completed in late 2000. With the announced end to the Oldsmobile nameplate, further changes have occurred. The Olds store has now been transformed into a Used Car Auto Mart and a new exclusive Mazda showroom was erected on the premises in November 2005. The moving of the Mazda franchise from the Porsche and Audi showroom will allow for future expansion of those showrooms to better suit the brand image of the upscale manufacturers.  On June 1, 2011 we added Dodge and Dodge Ram to our family of franchises.  They are located in our Chrysler/Jeep showroom at 5611 Illinois Rd.  In April of 2012 we started construction on the new façade of our showroom at 5611 Illinois Rd.  This is to reflect our full line of Chrysler-Jeep-Dodge and Dodge Ram.  The fall of 2012 we tore down our used car sales building and constructed a 9000 square foot used car building which included a state of the art prep center.  We moved in this facility in March of 2013. Winter of 2012 we added SRT to the Chrysler Family line up with the reintroduction of the new SRT Viper.
ODaniel Chrysler Dodge Jeep Ram SRT, Providing Service, Quality and Everything In Between to Chrysler, Dodge, Jeep and RAM Drivers from Fort Wayne
From before you even walk into our showroom to long after you drive home, all of our customers here at ODaniel Chrysler Dodge Jeep Ram SRT are customers for life. Being car-owners ourselves, it's only fitting that we'd provide our drivers with the kind of courtesy, service and respect that we would expect.
It all start with our extensive lineup of fabulous new and used Chrysler, Dodge, Jeep, RAM models. Whether you're looking for something for the whole family to enjoy or something to spice up your daily commute, the world is your oyster when you consider the lineup of vehicles we carry. And thanks to the car loan and Chrysler, Dodge, Jeep, RAM lease options that are available throughout the year, it's never been easier to get behind the wheel on your terms.
From there, the experts in our car service and maintenance department will be there to make sure that your vehicle will continue to run as smoothly as it did on Day One. Or if you're looking do some upgrades with the latest and greatest Chrysler, Dodge, Jeep, RAM parts on the market, you can trust the experts at ODaniel Chrysler Dodge Jeep Ram SRT cover your automotive needs.
The service never stops once you visit us here at ODaniel Chrysler Dodge Jeep Ram SRT. There's never been a better time to drop on by at our dealership here in 5611 Illinois Rd Fort Wayne, Indiana, proudly serving drivers from New Haven, Columbia City, Auburn and Huntington. We're very much looking forward to it.