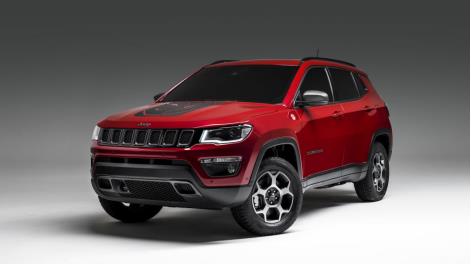 At the 2019 International Geneva Motor Show, the Jeep Brand showcased its new plug-in hybrid electric vehicle models, or PHEV. These new hybrids are designed to reduce the total cost of ownership and be environmentally friendly. A no-compromise hybrid solution will power both the Jeep Renegade and Jeep Compass PHEVs, giving them absolute freedom and taking their capability to the next level with the most advanced eco-friendly technology.
The new Renegade and Compass PHEVs are equipped with batteries that can store more electric energy and be recharged using an external power outlet. This allows for more powerful electric motors, giving both the Renegade and Compass approximately 50 kilometers and about 130 kilometers per hour at top speed.
A new 1.3-liter turbo petrol engine increases overall efficiency and power with help from the electric units. The Renegade has outstanding on-road performance with power sitting in the 190 to 240 horsepower range. It can go from 0-100 km/h in approximately seven seconds. The same figures apply to the Compass. The Compass can deliver up to 240 horsepower using both the internal combustion engine and the electric motor.
The new Jeep PHEVs offer improved acceleration and fast engine response on top of being extremely quiet. They both have CO2 emissions lower than 50 g/km.


Both the Renegade and Compass PHEVs have improved off-road capability courtesy of the greater torque the electric motor produces and the ability to adjust it with extreme precision — even on the most challenging terrain.

Traction to the rear axle is provided by a dedicated electric motor thanks to the new electric all-wheel-drive technology. With this technology, the two axles can separate and control the torque independently, which is more effective than a mechanical system.
Renegade and Compass PHEVs have a dedicated instrument cluster and infotainment screen that updates with information related to hybrid driving.


Jeep's showcase at Geneva displays how the brand continues to evolve by embracing new challenges and setting new standards while still maintaining its core values of authenticity, passion, and freedom.