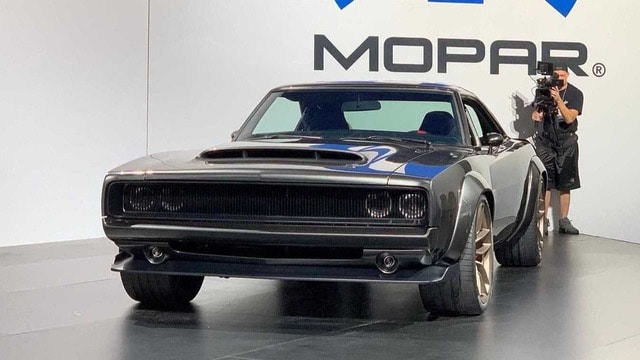 On April 26, Mopar celebrated HEMI day with the launching of pre-orders for the 1,000 horsepower "Hellephant" 426 Supercharged Crate HEMI Engine and Kit. On top of celebrating the "Hellephant," this day was to honor the historic HEMI engine that premiered over 50 years ago.
Initially, the "Hellephant" was revealed for the first time at the 2018 SEMA Show in Las Vegas last fall. "Hellephant" is Mopar's first 1,000-horsepower crate engine kit provided by an Original Equipment Manufacturer (OEM), coupled with a remarkable 950 lb.-ft. of torque.
"The reaction when we revealed the 'Hellephant' engine at the SEMA Show was just amazing, and the momentum continued after the show, with close to 1,000 people expressing interest in buying this engine," said Steve Beahm, Head of Parts & Service (Mopar) and Passenger Car Brands, FCA - North America. "Power and performance are ingrained in our brand's DNA, and there is no better time to open pre-orders of this 1,000-horsepower, supercharged engine than on HEMI Day."
Step by step, pre-ordering information is available on www.cratehemi.com. In honor of the launch of pre-orders, Mopar shared a video on each of the brand's social media platforms such as Facebook, Twitter, YouTube, and Instagram that acted as the last video in the teaser video series which were shared before the "Hellephant's" unveil at SEMA.
Mopar has also unleashed a full guide to help owners in finishing their "Hellephant" installment that includes a Front-End Accessory Drive (FEAD) Kit, an A/C Expansion Kit, Exhaust Manifold Kit, Rear Sump Oil Pan Kit, and 45-degree Oil Filter.
This engine's exclusive logo design represents the brand's previous and present 426 HEMI engine, which was nicknamed the "elephant" engine along with the present-day 707-horsepower Mopar "Hellcrate" Engine.
The "Hellephant's" assembled with various elements including a water pump, flywheel, front sump oil pan, supercharger with throttle body, fuel injectors, and coil packs.
The starting MSRP for the Mopar "Hellephant" 426 Supercharged Crate HEMI Engine is $29,995, along with the "Hellephant" Engine Kit which is also available for pre-order and has an MSRP of $2,265 which allows a reasonably simple plug-and-play for skilled installers.