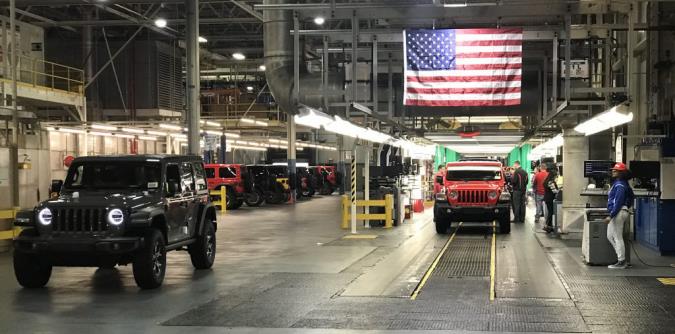 The 2018 Jeep Wrangler is built in its historic home in Toledo, where in 1941, the tradition of building the original 4x4 began. The Toledo plant is equipped with the latest technology, providing safer working conditions for employees and quality vehicles for customers.
It all began in 2016 when FCA US invested $700 million in the Toledo North Assembly Plant and created 700 new jobs. Production began in 2017, and since then, team members have worked six, sometimes seven, days a week to build more than 200,000 Wranglers and have shipped them around the world.
Each Wrangler takes nearly 24 hours to build from start to finish. The Toledo Plant's assembly line includes new ergonomic features, like the Chassis Automated Guided Vehicle System. These carts are battery-free and self-guided and can carry up to 3,500 pounds. They can travel up to 120 feet per minute and have a stopping accuracy within 0.25 inches.
These carts transport the chassis down the assembly line and make stops at stations like the Robotic Frame VIN Etch, where the specific make and model of each vehicle in etched into the chassis by a robot. With 105 markets and each country having unique requirements for VIN marking, this is an important process as the Wrangler has 12 frame variations. This system ensures that each market requirement is met and the quality is ensured.
Moving down the line, the carts transport the chassis to receive suspension, powertrain, and other components. Then, the chassis is delivered to the Robotic Frame Transfer where the largest industrial robot available — capable of carrying 5,070 pounds — picks up the chassis and moves it along the assembly line.
Robots are also used in the Glass Cell to ensure a better seal on the windshield to eliminate water leaks as well as road noise and wind. To do this, a robot picks up the windshield and applies a urethane adhesive. Before the wind shield is precisely placed, it's inspected with an Infrared Vision System to check for quality and conformance.
In order for workers to install parts on the roof and underbody, an innovative system called the Rotisserie Skillet provides easier access for safety measures. As the Wrangler travels down the assembly line, the body rotates 90 degrees to allow workers easy access to hard to reach places. A short distance away, the body rotates 180 degrees to allow workers at the following stations to add additional parts.
The chassis and body come together at the end of the assembly line in a fully automated process that requires no manual intervention. This guarantees a precise alignment between the body and frame and automatically secures bolts in the proper location.