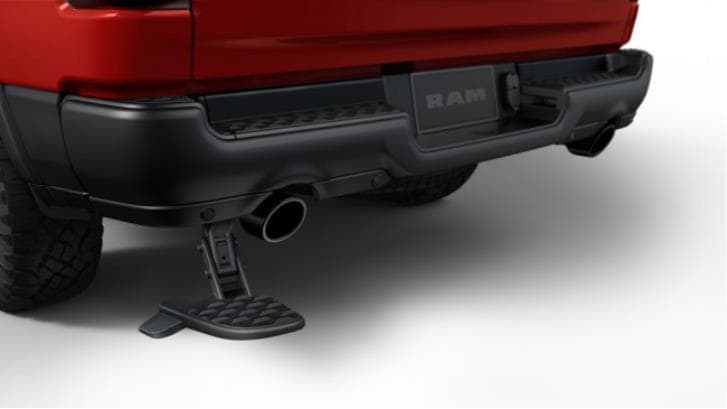 The all-new 2019 Ram 1500 incorporates many new features to provide the best experience on and off the road. With a cargo bed featuring 61.5 cubic feet of space, the 2019 Ram 1500 is capable of hauling even the largest of cargo. To make accessing the bed of the truck easier, the 2019 Ram 1500 offers an option for enhanced cargo hauling. The Ram 1500 Bed Step provides a safe and easy way to load and store boxes, bags, barrels, and other items in the bed of your pickup.
The Ram 1500 Bed Step is a flip-down bumper step that makes accessing the bed of your truck safe and easy. The Bed Step is installed at the corner of your pickup bed, providing easy access to the step even if a trailer or other accessory is attached. With the push of your foot, the Bed Step deploys with the help of an articulating arm and offers a firm, high-traction foothold to allow you to easily move cargo into or out of the bed of your truck. With its design, the Bed Step can be used with the tailgate up or down, providing even more access to your pickup bed.
Another push with your foot closes the Bed Step and returns it to its original position under the bumper where it's out of sight for improved aerodynamics, ground clearance, and good looks. Being stored under the bumper means it's always clean and dry, so you don't have to worry about using it in snowy or rainy weather.
The Ram 1500 Bed Step is one of the many ways which Ram is integrating customer needs and wants into the new Ram 1500 lineup. The 2019 Ram 1500 has an MSRP starting at $31,795, and you can customize your truck with any of the 200 accessories available.