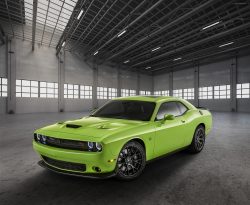 FCA, Fiat Chrysler Automobiles, showcased at the Chicago Auto Show in February with some new features. Including the Dodge Sublime green, the minivan's 35th anniversary, and new additions to Ram's pickups.
Dodge revealed the Dodge Challenger and the Dodge Charger 2019 models, available with the popular, high-impact Sublime green.
While these two vehicles have been previously accessible in Sublime, a few more are as well: Charger SRT Hellcat, Challenger Widebody, Challenger T/A and Charger Scat Pack.
The 35th anniversary of the modern minivan was celebrated at the auto show with the FCA unleashing a special edition available for the Chrysler Pacifica, Dodge Grand Caravan, and the Chrysler Pacifica. This package includes a new 35th anniversary badging, a black grille, all-black interior and Cranberry Wine stitching, ten paint options, an optional Sportier S Appearance package, and more improved content.
The vehicle that has been around since late 1983 and at its peak sold about 1.4 million vehicles according to Business Insider.
Ram presented the Ram 1500 with a multifunction tailgate on its pickup. In comparison to the Ford F-150 and Chevrolet Silverado, the Ram 1500 is the superior in engine towing, air suspension, cargo management system, standard transmission and engine, brake rotor size, and more.
Ram will also be unveiling its new age of work trucks: the 4500 Chassis Cab, 5500 Chassis Cab, and 2019 Ram 3500. All of which "offer segment-leading towing capacity up to 35,220 pounds, the highest Gross Combined Weight Railing of 43,000 pounds and payload capacity up to 12,510 pounds."
The FCA represents the union of the Fiat and Chrysler groups in 2014. The organization strives to achieve the goals set out for their long term plans.
FCA's exhibit at the auto show included two test tracks: a 24,000-square-foot Camp Jeep and a Ram Trucks track, the "Ram Mountain." The auto show was held in Chicago at the McCormick Place, February 9th-18th.