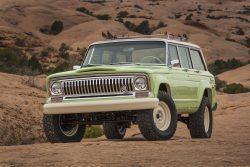 Typically known for its sleek design and modern flare, this year's Jeep Wagoneer is throwing it back to the past with its hip design concept and sixties style. Paying homage to good ole family summer road trips, the Jeep Wagoneer gives riders that nostalgic feeling while still providing them with the technological updates and trendy features they desire.
Honoring the beauty and legacy of the first Jeep Wagoneer, renovations to the vehicle all took place under the hood. The look is mostly the same, but the feel has definitely been upgraded. Starting with the frame, the Wagoneer Roadtrip now features front and back Dana 44 axles to go along with the contemporary spring and coil suspension. Giving the Jeep life is the powerful 5.7 liter V-8 engine and BFGoodrich Mud-Terrain wheels that allow drivers to explore off the beaten path.
A pair of modern bumpers and customized fenders add to the stunning exterior appeal along with the Jeep's traditional razor grille. The authentic windows were updated and replaced with green architectural glass to continue the exclusive color theme designed specifically for the Wagoneer.
Matching the wistful exterior, the inside of this old-fashioned masterpiece is just as enchanting. The pioneered leather bench seats are back, but this time covered with a fiery dark red finish. If that's not enough, the straw-woven headliner and sixties suitcase transformed to cooler will be sure to take passengers back to simpler times and remind them of cherished family memories.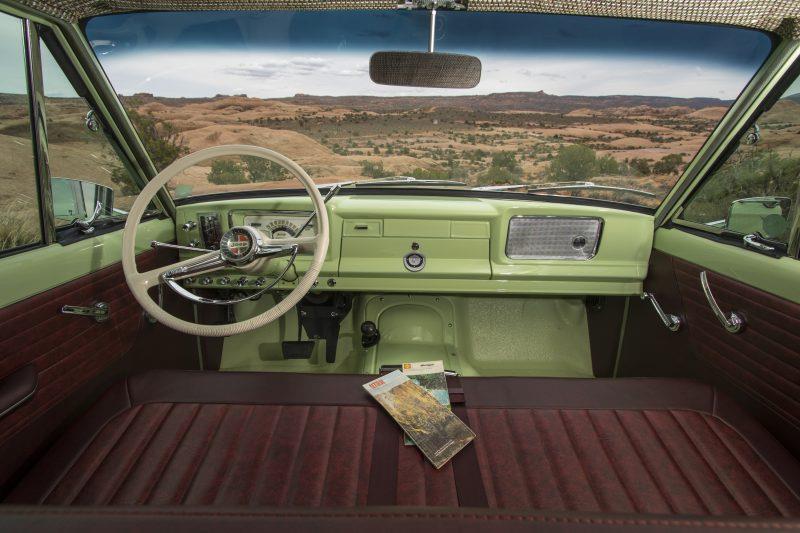 Car enthusiasts across the country are raving about the Wagoneer Roadtrip. It's fun, fresh, and reminds riders of all the things they used to love, while still providing them with everything they need. There's no denying here that the experts at Jeep have done it again with this fascinating and innovative concept that's making everyone want to plan that road trip, hit the highway, and never look back.