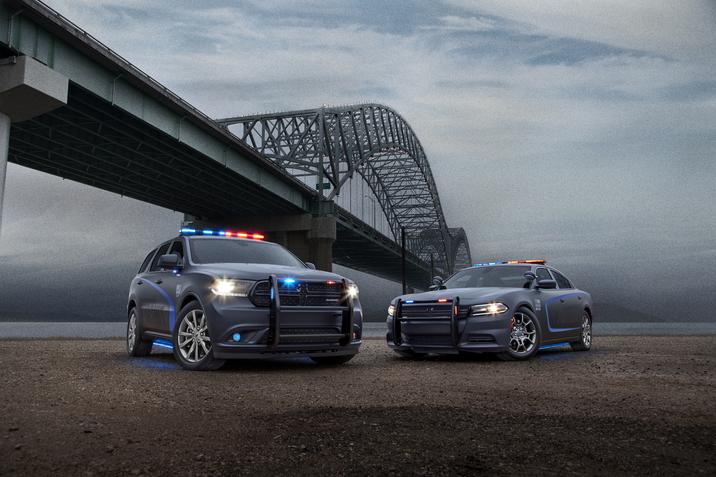 Dodge, part of Auburn Hills-based FCA, announced this past May that they are planning on extending their police vehicle lineup with the addition of a new 2018 Pursuit model of the Dodge Durango.

"Unofficial testing results at the Michigan State Police 2018 model-year vehicle evaluation event created such a stir among law enforcement agencies that we simply had to find a way to build this vehicle," says Steve Beahm, head of passenger car brands at Dodge/SRT, Chrysler, and FIAT–FCA North America. "The Dodge Durango is already known as the Charger of SUVs, so it is only natural that the new Durango Pursuit complements the Charger Pursuit in police fleets across the country."

The powerful 2018 Dodge Durango Pursuit has the prominent 5.7L Hemi V-8 engine paired with a full-time, active all-wheel-drive system. This powertrain combination is identical to the well-known Dodge Charger Pursuit, which is currently the top-selling police sedan in the United States market. The Dodge Durango includes a two-speed transfer case for low-range off-road capability and also bigger, heavy-duty anti-lock brakes that produce a 60-0 mile per hour stopping distance of 134 feet.

This advanced, police pursuit vehicle offers many significant features such as an eight-speed automatic transmission, rear-wheel-drive-based drivetrain, segment's longest wheelbase, best-in-class 7,200 lb. towing capability, and 8.1 inches of ground clearance.

The interior of the Dodge Durango includes innovative technology features such as Parkview rear backup camera with Parksense alert, eight-way power adjusting driver seat allows the driver to customize their comfort along with supportive foam inside of the seats. Dodge also installed appropriate ventilation and air conditioning using Tri-Zone interior temperature control for not only the drivers but for the K-9 unit as well.

The design team created elements that were convenient for fast on-the-job police fleets and incorporated comfort for those long police shifts.

The new 2018 Dodge Durango Pursuit V-8 AWD is now available and law enforcement agencies can start ordering them.