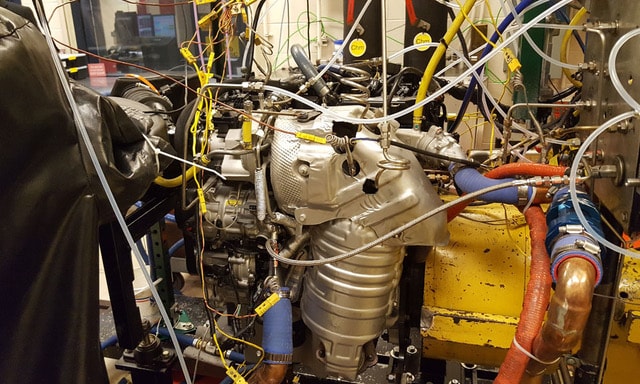 FCA powertrain engineers have initiated their goals of constructing an engine that delivers more efficient energy while using less performance strength, and they now have the appropriate material to begin with.
Drastic discoveries made by FCA are due to a current research effort with Oak Ridge National Laboratory in Tennessee and casting supplier Nemak. They have found an aluminum alloy that can tolerate high heat up to 300 degrees Celsius (572 degrees Fahrenheit).
An obstacle that the engineers have faced is controlling the high thermal limits of the aluminum alloys that are used today in cylinder heads. Usually, the alloys known as 319 and 356 grades start to diminish once the temperature reaches above 200 degrees Celsius (392 degrees Fahrenheit).
Another addition along with this new alloy staying strong at high temperatures is that it can also be cast and machined. These are all main goals that were stated in the cooperative research and development agreement (CRADA), the three-year, $3.5 million project sponsored by the federal government.
The improved alloy discovery, ACMZ, may have given engineers the ability to narrow the "bridge" areas in the cylinder head. This then would give engineers an opportunity to generate an engine with the necessary balance of performance and efficiency.
One element that makes ACMZ stand out from the rest is the fact that it doesn't use silicon as a strengthening component, but uses copper material instead.
Using copper in alloys isn't new, it's just a more expensive material and has a history of developing small cracks during the solidification period after casting. However, the partnership with Oak Ridge National Laboratory allowed engineers to use advanced technology while inspecting the formation, size, and location of the different strengthen elements.
FCA had access to Oak Ridge's Titan supercomputer, which is the third-most-powerful supercomputer in the United States and seventh in the world, and the ICME, a predictive development process. This enabled them to virtually generate 50 advanced aluminum-copper recipes.
"The Titan and ICME let the team focus only on truly promising candidates instead of spending time on trial and error," said Gregg Black, senior manager in Advanced Powertrain Engineering at FCA. "It's like Star Wars stuff for us, creating new alloys in the computer without having to pour it."
Since this alloy was developed with government sponsorship, other companies will be able to use the enhanced material once it becomes commercialized. However, FCA and their partners have applied for four patents, and they have a head start by being the creators of the alloy material.
"When we focused on copper, other people in the industry almost laughed us off, saying we'd never be able to cast that," Black says. "We knew there was competition, including other teams working at Oak Ridge National Labs, but we outperformed everyone on this."
ACMZ will not make its debut in a production engine for another few years, but FCA and its partners will continue to cast more cylinder heads with the alloy, and implement a variety of tests on prototypes.
"We are just getting started on the process to create a design now that we have a material that will work," Black says. "We feel like we really have a tiger by the tail."